Londonderry: Man who beat disabled man sentenced to six years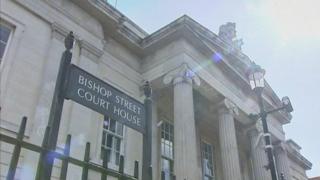 A man who beat his disabled neighbour with a walking stick in a "sustained and violent attack" has been sent to jail for six and a half years.
Mark Howie, 43, from Sperrin Park, Londonderry, admitted causing grievous bodily harm with intent on Sydney Harold Olphert on 1 April 2017.
Mr Olphert sustained multiple injuries and fractures.
Londonderry Crown Court was told the attack was sparked by a row over a phone charger.
Mr Olphert was a neighbour of Howie.
Long list of injuries
The victim died six months after he was attacked, but his death was not related to the injuries inflicted on him by Howie, the court heard.
Several of Mr Olphert's family were in court for the sentencing on Wednesday.
The court heard the men, both alcoholics, had been drinking alcohol in Mr Olphert's home when an argument broke out about a mobile phone charger.
Judge Philip Babington told the court Mr Olphert sustained a long list of injuries.
They included significant facial swelling, a laceration to the left eye, a swelling to the right eye, bruising to the anterior chest wall, to the left arm and to the left shoulder.
He also sustained swelling to the left forearm and hand, a compression of a vertebrae, multiple fractures to the left hand side of his face and to his lower right rib, a fracture to his left arm and a fracture of his right index finger.
He said photographs of Mr Olphert's injuries were "testimony to the ferocity of the attack."
Mr Olphert, was found the morning after the attack by a friend who called to visit him.
He was slumped on his living room sofa covered in his own blood. There were also substantial amounts of his blood found on the ceiling, floor and on his walking stick.
Mr Olphert's friend called the police and the injured victim pointed upwards and told the police "it was yer man upstairs".
The police went to Howie's upstairs flat, the court was told.
Howie opened the door dressed only in his underwear and the officers found his bloodstained clothes inside his washing machine.
'Must have lost the head'
After his arrest he told police he had been attacked first and "must have lost the head."
He also told the police he blanked out after the attack and woke up the following morning covered in blood.
Howie, who has spent a total of fifteen years in prison for other offences, told officers he did not return to Mr Olphert's flat after the attack because he was scared of what he might see.
Judge Babington said the court had previously been told by defence barrister Stephen Mooney that Howie immediately admitted his guilt and expressed remorse.
Howie also said he was both disgusted and ashamed of what he had done to Mr Olphert.
Judge Babington said Howie was also entitled to some credit in that he had pleaded guilty and had expressed remorse for his actions.
He said it was significant that a weapon had been used.