Northern Ireland floods: Clean-up costs to top £30m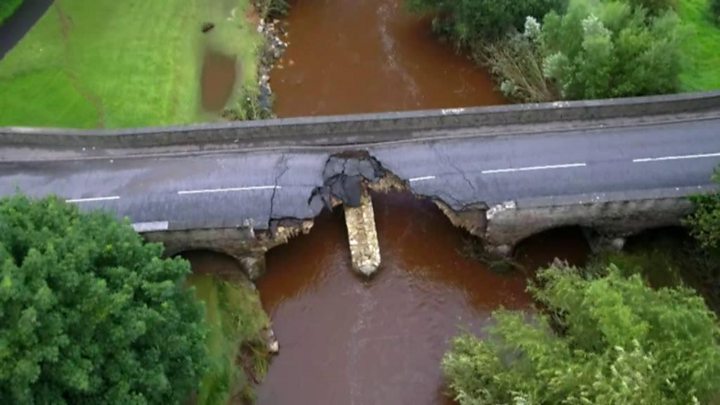 The clean-up and repair bill following severe flooding in the north west last August is set to top £30m.
Hundreds of bridges and roads were damaged and numerous several buildings and homes were flooded due to the large volume of rain.
It is estimated around 60% of the rainfall expected for the entire month of August fell in just nine hours.
Some families displaced by the flooding in County Donegal are yet to return to their homes.
About £12.5m is to be spent in Counties Londonderry and Tyrone by the Department of Infrastructure in Northern Ireland (DfI), while Donegal County Council estimates it will spend €20m (£18m) - an increase of €5m (£4.5m) on this time last year.
Work is continuing in both jurisdictions a year after the flooding.
Three roads in Northern Ireland are still closed because of damage to bridges - Ballynameen Bridge in Church Street, Claudy; the Glenrandal Bridge in Claudy; and a bridge on Dreenan Road in Beragh.
The DfI estimates repairs will be completed by October this year.
In the Republic, between 60-70% of the estimated €20m repair bill has been spent so far.