Murdered officers' names burned on Londonderry bonfire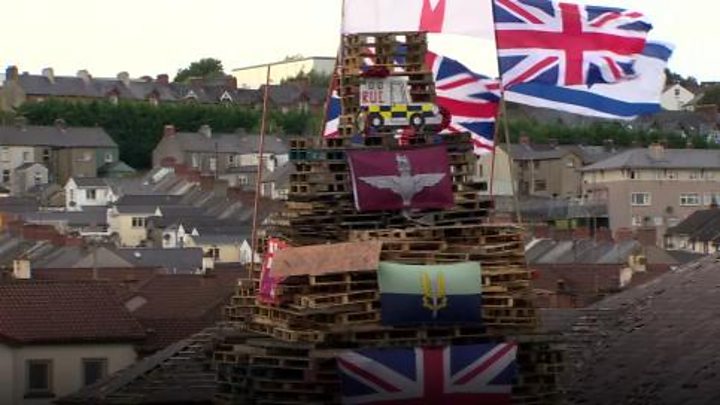 Families of murdered police and prison officers have expressed disgust after their loved ones' names were burnt on a bonfire in Londonderry.
Boards bearing the names of four men were placed on the bonfire in the city's Bogside.
Poppy wreaths were also put on the bonfire, which was lit on Wednesday night.
The Police Service of Northern Ireland (PSNI) said it was investigating the bonfire as a hate crime.
Three petrol bombs were thrown at police in the area of the city's famous walls.
A 35-year-old man has been charged with making, possessing and throwing a petrol bomb and is due to appear in court next month.
Bonfires on 15 August are traditional in some nationalist parts of Northern Ireland to mark the Catholic Feast of the Assumption.
To others, they are lit to commemorate the introduction of internment without trial of republican suspects, which was introduced by the government in 1971.
'No-one can hurt him'
The names of police officer Stephen Carroll and prison officer David Black were among those that were added to the bonfire.
PC Carroll was shot dead in Craigavon in County Armagh in March 2009.
His widow Kate Carroll said she was "shocked and disappointed" to hear that his name had been burnt.
"Stephen wasn't bigoted or bitter," she said.
"No-one can hurt Stephen any more - I try not to let things like this upset me."
David Black was shot and killed on the M1 as he drove to work in November 2012.
In June his son Kyle Black spoke about how he drove past the scene of his father's murder just moments after the shooting, unaware of what had happened.
On Wednesday he said he was "absolutely sickened" that boards bearing the names of his father and other men were being burnt.
"My dad, along with the other brave men named, served their community with dignity and respect," he tweeted.
"This in complete contrast to those responsible for this."
'Sticks in my throat'
Controversy about bonfires invariably arises during the summer in Northern Ireland.
Loyalist bonfires on the Eleventh Night in July and republican bonfires in mid-August have been the subject of concerns, both on safety grounds and with regards to the flags and symbols placed on them.
Dissident republicans, who are opposed to the Northern Ireland peace process, have been accused of using bonfires to try to stir tensions.
PSNI Assistant Chief Constable Alan Todd said it "sticks in my throat" that the names of two of his former colleagues were burnt on the Bogside bonfire.
He added: "I have to weigh up if it's safe or reasonable to ask my police officers to climb a structure."
Fergal Leonard of the Northern Ireland Fire and Rescue Service said firefighters arrived at the bonfire because "we knew there were risks" as thousands of people watched it burn.
"We knew we had to protect lives and buildings - the bonfire was at one point 10 to 15 metres away from the nearest building," he added.
'Appalled by this hatred'
The bonfire was just a few hundred metres away from a smaller one that had no flags, emblems or messages.
The smaller structure was in the grounds of Gasyard Park and was part of a community carnival marking the end of a festival in the area.
Politicians in Northern Ireland and the Republic of Ireland criticised those behind the bigger bonfire.
Irish Foreign Minister Simon Coveney said he was "appalled and saddened by this hatred", while Northern Ireland Secretary Karen Bradley condemned "this type of offensive and sickening behaviour."
SDLP leader Colum Eastwood said he was "totally appalled", adding that community workers had tried to stop the signs being added to it.
Mayor of Derry John Boyle said the large bonfire was "certainly not reflective of the people of the Bogside".
Last week a sign mocking the death of the father of a victims' campaigner was placed on a bonfire in Newry in County Down.
Willie Frazer's father Bertie was killed in an IRA gun attack in 1975.
Police said they were investigating it as a hate incident and politicians from the main Stormont parties criticised those behind it.