The half marathon balloon runners setting the pace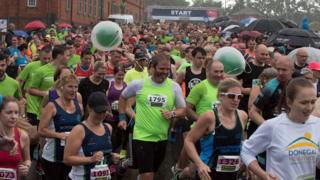 For months they have pounded the streets, putting in the miles on endless energy sapping training runs.
Now, for the thousands of runners taking part in this year's Waterside Half Marathon, the focus switches to race day on 2 September.
So how do participants, be it the experienced and elite or the beginners, notch that coveted personal best?
The secret to success, it seems, lies in following balloons.
That's what a crack team of 12 seasoned pace runners will carry with them around the 13.1 mile Derry route.
Each coloured balloon will signify the finish time targeted by the pacer, whose aim is to guide and motivate runners to the finish line - and to a best possible time.
Race organiser Gerry Lynch said the balloons maximise the pacer's visibility.
"To run a half marathon sub 90 minutes is quite a challenge, that's hitting about a six minute mile, so you can subscribe to the red balloon guy - they do have a vest that says pacer on it but when you are in a crowd of 2,500 people that's what you need to look for.
"These are experienced guys who know how to hit the mile markers," he said.
He added about 90% of runners who follow a pace balloon achieve their target time.
2018 Waterside Half Marathon facts and figures
13.1 - Length of the course in miles
2200 - Number of runners
17 - Age of the youngest runner
75 - Age of oldest competitor
120 - Marshals on the course
10 - Number of nationalities taking part
15,000 - Number of safety pins for race numbers
13,000 - Bottles of water
6 - Different colours of balloons used by race pace setters
Once assigned only to the crème de la crème of the athletics world, pacers have become a mainstay of mass participation long distance races the world over.
It is thought they were first introduced en masse for the centennial Boston Marathon in 1996.
In the Waterside event, following the red balloon will get you home in 90 minutes, add fifteen minutes to that time for the blue, another fifteen for green, and so on for both yellow and white balloons.
Paddy Doherty will lead the team of balloon toting pace setters at the Waterside race.
"I can't stress enough how important it is to have pacers at a race," he said.
"Following a pacer will allow you to get your head down, focus on the running and be guided to the finish line in your target time".
The Waterside pacers will each have a designated pace, setting finishing target times at 15-minute intervals between 1hr 30 and 2hrs 30.
Paddy has been leading pace teams in the north west since the 2013 Walled City Marathon.
He knows the importance of "holding an even mile pace."
"Pacing yourself sensibly during the course of the race ensures that it is less of a struggle, particularly for a first-time or beginner" he added.
And he said there's much more to the role of a pacer than simply running to a set time.
"The pacers and the group of runners following the pacer will also offer motivation, giving you something to cling on to or spur you on if you're struggling."
"This creates a camaraderie that just can't be matched by running on your own"
Now in its 37th year, around 2,200 runners will take part in the Waterside Half Marathon on 2 September.
This year's event also hosts the Athletics NI Ulster Half Marathon 2018 Championships.