Man charged with kidnap and threatening to kill partner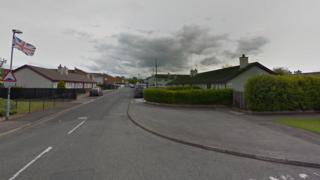 A 41-year old man has appeared in court charged with kidnapping and threatening to kill his partner.
Brian McDonagh from Winchester Park, Londonderry, is alleged to have committed the offences on Wednesday.
The defendant is also charged with false imprisonment, driving while unfit, failing to remain at the scene of an accident and failing to report an accident.
An attempted murder charge was being withdrawn, the court was told.
A PSNI officer told Londonderry Magistrates' Court, sitting in Omagh, the woman went to Mr McDonagh's house on Wednesday evening to discuss the ownership of a van.
Mr McDonagh suggested they go for a drive in the van at which point the complainant alleged he became aggressive towards her.
The court was told that Mr McDonagh then threatened to kill her and said he was going to drive the van into the River Foyle.
The police officer said: "The injured party said she was terrified of the defendant.
"When he eventually stopped the van she tried to escape out of the passenger door but she fell to the ground."
The police officer said she alleged Mr McDonagh then reversed the van over her left arm.
"He tried to do it several times but she managed to roll away. She says the van hit her again," he said.
Bail refused
The court then heard the complainant said Mr McDonagh "choked her with both hands, opened the rear door of the van, threw her inside and locked her in before he drove off".
The woman alleged she escaped into a nearby field when the van door was opened by Mr McDonagh.
She made her way to a nearby house and an ambulance was called. She was interviewed by police in hospital where she was treated for her injuries.
The van was later found abandoned in the Caw area. Mr McDonagh was located walking towards his home through Seymour Gardens.
Bail was refused by Deputy District Judge Alan White.
He said he believed there would be a serious risk of the defendant committing further offences and added the defendant had previous convictions for offences involving the same complainant.
Mr McDonagh was remanded in custody until 6 September.