Omagh bomb father criticises legacy plans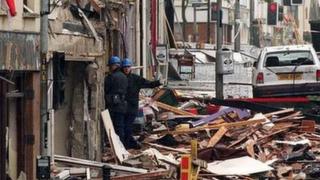 A man who lost his son in the 1998 Omagh bomb has criticised the government's proposals for dealing with the legacy of the Troubles.
Michael Gallagher said the plans do not demonstrate the will "to help victims get either truth or justice".
Mr Gallagher's son Aidan was one of 29 people - including a woman pregnant with twins - killed in the Real IRA attack on 15 August 1998.
A public consultation process on the proposals runs until September 10.
Mr Gallagher was speaking at an event in Buncrana, County Donegal.
Three of the victims of the Omagh bomb came from the County Donegal seaside town, while two Spanish students, part of a Spanish-Irish exchange group staying in Buncrana, also died.
Mr Gallagher said: "There is no doubt in my mind that many people who are looking for answers, some for more than 50 years, will not get those answers.
"They will be frustrated and that is very wrong. I think the government is actually allowing this to fester," he said.
There was a "need for honesty in government", he said.
Mr Gallagher said Omagh campaigners "strenuously oppose" plans to have the bombing investigated by a proposed Historical Investigations Unit (HIU).
Under the legacy proposals the HIU would investigate deaths that occurred between 11 April 1998 and March 31, 2004, including the Omagh bomb.
Instead, a public inquiry into the atrocity would be the "best route to get to the truth", Mr Gallagher said.