Witches launch Europe's biggest Halloween party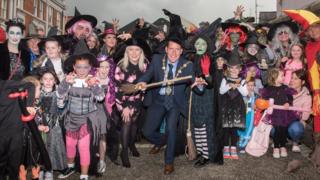 Hundreds of witches gathered in Londonderry to celebrate 400 years of the city's walls and launch Europe's biggest Halloween party.
Wizards, warlocks, zombies and even a pied piper joined the incantation on Derry's Walls on Thursday.
Organisers have yet to confirm how many took part part.
Derry City and Strabane District Council hoped 400 people - one for every year since the walls' completion - would join in.
The mass witch on the walls photocall will be used to promote the annual Banks of the Foyle Halloween Carnival across the globe.
Last year's carnival drew almost 100,000 people to the city.
The council's festival organiser Liz Cunningham said holding a Halloween themed event in summer was a "quirky way" of building excitement.
She said because the walls are celebrating 400 years and "because the people of the city love dressing up", it made perfect sense to give the usual low key Halloween festival launch event a much bigger platform.
"We are very proud of how we do Halloween," she said.
"The walls are always such a big part of that and for three nights of the festival each year we host the 'Awakening the Walls', an illuminative trail around the walls.
"An event in August bringing together Halloween and the walls made perfect sense.
"The effort people went to tonight was incredible, there were some great costumes. It shows how much people here love Halloween, how much they feel they are part of it," she said.
Bemused tourists looked on as the hundreds of witches marched across Guildhall Square and onto the walls as the theme from Ghostbusters, Monster Mash and Bat out of Hell. provided Guildhall Square's musical backdrop.
Inclement weather may have contributed to the hoped for numbers falling short but it did little to dampen the enthusiasm of witches, both young and old, who did take part.
"A little rain was never going to put off the witches of Derry," the Mayor of Derry John Boyle told BBC News NI.
"It was wonderful to see the lengths people were willing to go to and the imagination on display.
"This is the city at its best, family, community, people coming together to enjoy themselves."
In 2015, Derry was named "best Halloween destination in the world" by a USA Today readers' poll.