Limavady Catholic church daubed with sectarian graffiti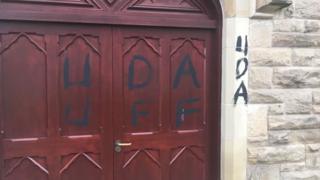 Police are treating graffiti and criminal damage on a Catholic church in Limavady, County Londonderry, as a sectarian hate crime.
The PSNI received a report about the damage on Tuesday morning.
Paramilitary graffiti reading 'UDA' and 'UFF' was daubed on the door and walls of St Mary's parish church on Irish Green Street and a statue was also damaged.
Monsignor Bryan McCanny told BBC News NI it was the first attack of its kind.
"The two police officers who arrived this morning helped to clean the paint off the door," he said, adding that a parishioner discovered the damage.
"We never had a problem like this before. There was something very minor about five or six years ago but this is completely new to us.
"Parishioners are very upset about it. It's depressing that things like this should happen when we are enjoying peace."
'Disgraceful'
The Ulster Freedom Fighters (UFF) is widely acknowledged to be a cover name for the Ulster Defence Association (UDA), an umbrella group of various loyalist groups, which was formed in 1971.
The UFF is believed to have killed more than 250 people during the Troubles.
Monsignor McCanny said there had been an increase in the amount of graffiti and painted pavements in recent weeks.
"It needs nipped in the bud," he added.
"Limavady has always been a respectful town. We don't want the peace disturbed."
Sinn Féin MLA Caoimhe Archibald said it was a "disgraceful attack."
'Saddened and angered'
"This attack comes after an increase in the number of paramilitary flags being flown and a surge in kerb painting in the town," she added.
"I would urge all elected and community leaders within unionism to show leadership in order to bring an end to the tensions in the area caused by marking territory in this way."
DUP councillor Aaron Callan said: "This is disgusting and vile and should be rightly condemned by everyone.
"There is no place for this kind of behaviour in our society, be it an attack on a chapel, church or an orange hall."
UUP councillor Darryl Wilson told BBC News NI: "I'm saddened and angered to see another attack on a community building within my borough.
"These mindless thugs do not represent the wider Causeway Coast and Glens community."
The incident in Limavady followed a separate report of criminal damage at a church in County Antrim at the weekend.
White paint was thrown in the grounds of Crumlin Presbyterian Church causing damage to the car park area.
Sergeant Chris Tate said the incident happened "sometime between Saturday lunchtime and Sunday morning" and that police were treating it as a hate crime.