Fans pack Londonderry cinema for Love Island finale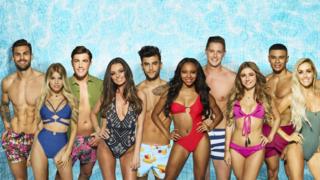 Hundreds of Love Island fans have packed out a Londonderry cinema for a special big screen showing of the 2018 season finale.
More than 440 fans watched Jack and Dani crowned the winning couple on Monday night on two screens at the Brunswick Moviebowl at the same time the episode was broadcast on TV.
Tickets went on sale last week and were snapped up in less than an hour.
Manger Eamon McLaughlin said the demand was "incredible."
"We sold out two screens in 45 minutes," he told BBC News NI.
"Viewing figures for Love Island are through the roof, and we already had many people landing in to buy popcorn and nachos to take home to watch that show, so we just thought 'why not screen it here?'."
Management said other made-for-TV hits could now be shown at the Derry cinema.
"This could be the start of something," Mr McLaughlin said.
"We have had people asking for Game of Thrones to be shown here in the past, and with the final season set to come out next year, that might be something we can consider."
Proceeds from the screening will be donated to a local charity.
Love Island has grown a dedicated following in recent years.
The show sees a group of contestants live on the Spanish island of Majorca and try to couple up with fellow participants.
The reality show is ITV2's most successful show ever.
During the series run couples must convince the public to keep them on the island, in order to win the £50,000 big prize.