Bogside trouble: Three injured after 26 petrol bombs thrown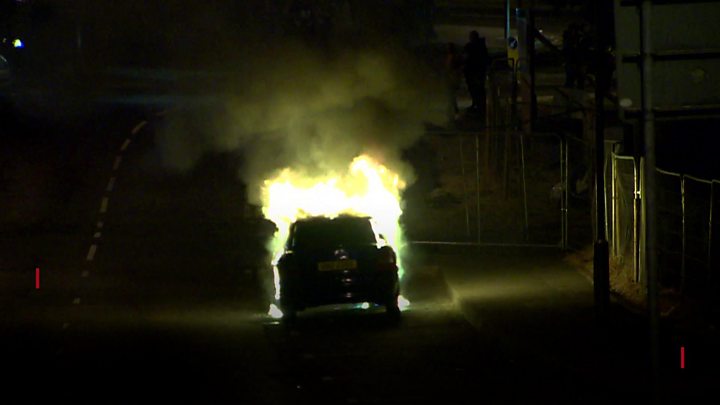 A woman and two police officers have been injured following another night of disorder in Londonderry.
More than 20 petrol bombs were thrown in the Bogside on Monday night and police wearing riot gear had to move into the area.
A car was set on fire in Fahan Street and rubbish was set alight at the bottom of the Lecky Road flyover.
Two men, aged 20 and 50, were arrested and remain in police custody.
A 17-year-old male has also been charged with disorderly behaviour, assault on police, resisting police and possessing an offensive weapon.
The teenager appeared at Londonderry Magistrate's Court on Tuesday. He was released on his own bail of £250.
The judge ordered the youth to continue to live in his family home, to observe a 23:00 BST to 07:00 BST curfew and not to enter the Bogside area of the city.
Translink have said that Foyle Metro services 8A, 8B and 8C, which connect the city centre with the Bogside, Brandywell and Creggan areas, have been cancelled for the rest of the evening.
More than 100 people gathered on Monday night to show their support for residents in the Fountain estate.
The crowd walked from the Bogside to the Fountain after 08:00 BST and past the sheltered accommodation which was attacked during disturbances over the weekend.
Contractors also moved in to extend the height of a fence on the city's walls on Monday night.
Bishops' visit disrupted by hijacking
The Bishop of Derry and Raphoe, Rt Rev Ken Good, and the Bishop of Derry, Dr Donal McKeown, paid a joint visit to the Fountain and Bogside on Tuesday afternoon, to meet people who had been affected by the attacks over the past few days.
As the bishops left St Columb's Wells, a van was abandoned at the foot of Lecky Road flyover and set on fire.
The clergymen were in the midst of their visit, which included speaking with youth workers, residents near the peace wall, as-well-as senior citizens from Alexander House who have been caught up in the violence.
"The continuing attacks on the Fountain—indeed, attacks on people in any part of our community—are an affront to our society and deserve our unqualified condemnation," Bishop McKeown and Bishop Good said in a joint statement.
"There is no justification for the stone-throwing and petrol bombing which has terrorised people living in the Fountain, terrified residents of Alexander House, and appalled the vast, vast majority of their fellow citizens.
"We are thankful that no one has been seriously injured or worse as a result of the recent attacks but recognise that we may not be so fortunate in future."
Fire fighters have extinguished the vehicle which was set alight near the flyover.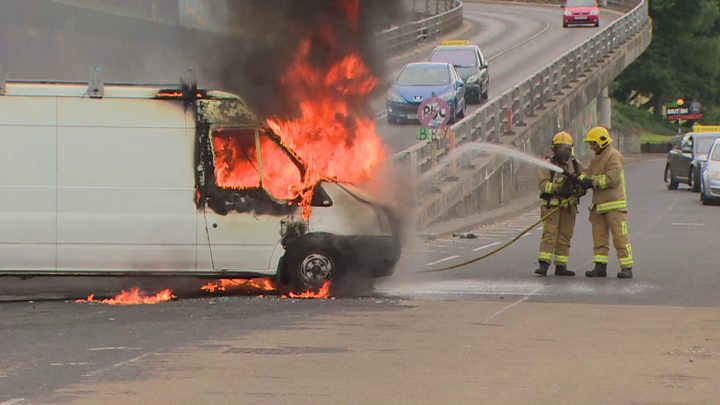 The police are advising people to avoid the area while they deal with the hijacking.
SDLP MLA Mark H Durkan has condemned the actions of the hijackers: "These thugs cannot be allowed to hold a community to ransom.
"They are not only terrorising the people in this area but placing a strain on emergency services.
"This must stop now."
'Saddened and angry'
PSNI Chief Inspector Alan Hutton said two police officers were injured after being hit by bricks.
"We are disappointed that some people decided to continue the public disorder in the Bogside last night, despite the clear message from the community earlier," Mr Hutton added.
"I am very proud of how my colleagues stood in the face of danger, working to bring this situation under control.
"But I am saddened and angry that again we find ourselves subject to serious violence from the communities we serve.
"Let me be clear, we made three arrests last night and with a robust criminal justice strategy in place, there will be more."
Inspector Hutton said there are now a number of police officers who are no longer available to deliver their core policing duties.
"The huge impact on our city cannot be ignored.
"As we strive to promote our positive image, the negative effect of these violent pictures on jobs, tourism and investment cannot be underestimated. We do not want to take a backward step.
"I urge all those with influence to urgently use it to bring a resolution to the violence and work towards a longer term solution for the issues affecting this area."
DUP MLA Gary Middleton has been speaking to the woman who was injured on Monday night.
"She's in her sixties and was hit by a stone," Mr Middleton told BBC Radio Foyle.
"She went to hospital and thankfully she is OK. She has been left badly shaken though.
"This trouble needs to stop as soon as possible."
Sinn Fein MLA Karen Mullan said she believes dissident republicans have been orchestrating recent attacks.
"Our youth workers had to leave the area late last night for their own safety.
"Things got worse and the crowd has also got older."