NHS at 70: Derry heart transplant survivor's praise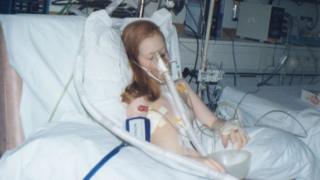 A woman from Londonderry is championing the work of the NHS 26 years after she became the youngest person in the North West to survive a heart transplant.
Michelle Crawford is calling for the public to support the work of the NHS as it marks its 70th birthday.
Her own life was effectively restarted when she received a new heart on Valentine's Day 1992, at the age of 10.
The Waterside woman has campaigned for years for people to sign up to become organ donors, following the success of her operation, which was carried out by NHS staff at Brompton Hospital in London.
By the time doctors diagnosed her with the hereditary condition Hypertrophic Obstructive Cardiomyopathy (HCM), the 10-year-old's organs were failing and cells in her heart were thickening, obstructing the flow of blood.
Medical staff told her parents their daughter only had six weeks to live unless a heart donor was found.
"Before the diagnosis, I was continually going to the doctor. I just wasn't well," she said.
"It was actually Dr Munro of Clarendon Medical who discovered that there was an irregularity with my heart.
"Then he transferred me to Altnagelvin Hospital where I was under the special care of Dr Brown - it was then him who transferred me to the Children's Hospital in Belfast.
"Then it was a matter of getting a more sophisticated test done and an angiogram revealed that I had HCM," Michelle said.
Michelle said the experience was very frightening but that she appreciated how encouraging and comforting the staff at all the hospitals were.
She recollects the moment that Dr Brown broke the news to her that she would have to travel to London for her life-saving operation.
"He got down on his knees, and he's was six-foot-seven or something, but he got down on his knees and said: 'You know Michelle, you're going to go on a really special trip on an aeroplane and you're going to get some magic medicine and a magic operation that'll start making you feel so much better.'
"It was all the little ways that the nurses and the doctors would have spoken to you that you appreciated.
"They just constantly reassured me and made me feel better."
Lorna Finlay began training as a nurse in 1950 and recalls being in the operating theatre for Michelle's transplant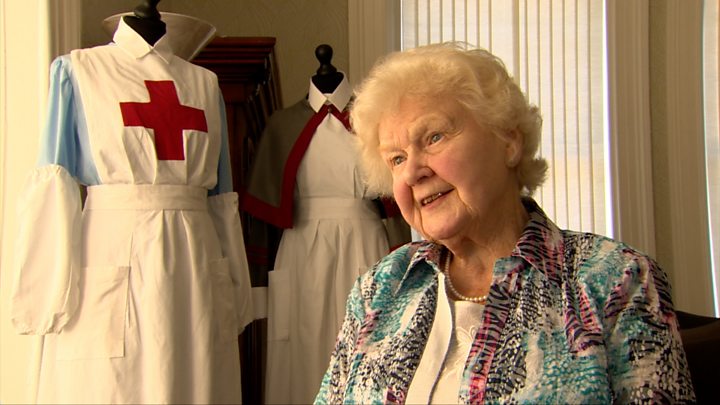 Michelle still keeps in touch with Dr Munro - her GP - and Dr Brown - her paediatric consultant - on a regular basis.
They have stayed in touch for years and have "a very special bond" due to the experience they went through together.
Michelle has even invited them to special birthday celebrations which often coincide with her fundraising efforts.
"They're just like family to me," she says, "I honestly can't thank the NHS enough, I mean Altnagelvin in my early stage - what they did to get me through and to sustain me so that I could be fit enough for my transplant, was incredible.
"I practically lived in ward 10 from Monday to Friday, but because of the amount of support that they gave me, it was almost a home-from-home as well."
On the 70th anniversary of the NHS, Michelle wants the community of Derry to once again rally behind her, as they did back in 1992.
If it was not for the act of her donor, Kelly, and the NHS staff, she would not be alive today.
"The NHS has advanced so much. Their medicines, their tests, and they really wouldn't be able to offer transplantations for people like me if people didn't donate.
"So, if you're not already on the organ donor register, please register today.
"Because we always say - you shouldn't take your organs to heaven, because heaven knows we need them here."