Deputy mayor to continue despite no confidence vote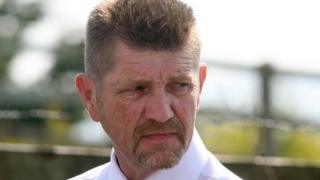 A vote of no confidence in the Deputy Mayor of Derry and Strabane District Council Derek Hussey has been passed by councillors.
The 25-1 vote, which is not binding, follows growing pressure on Derek Hussey to resign over his drink driving convictions.
The Ulster Unionist Party deputy mayor, was the only councillor to vote against the Sinn Féin motion.
Mr Hussey said he intends to continue as deputy mayor.
However, Mr Hussey will stand down from his role as chair of the local Policing and Community Safety Partnership.
At the meeting on Thursday, councillors were read an email from Ulster Unionist Party leader Robin Swann confirming Mr Hussey would resign from the policing partnership role due to his increased workload as deputy mayor.
He will be replaced by party colleague Mary Hamilton.
The Deputy Mayor said he had received many messages of support in recent days despite growing calls for his resignation.
Earlier this week, the council's mayor, SDLP councillor John Boyle, met with two families whose loved ones were killed by drunk drivers.
The Gallagher and Bradley families had been calling for Mr Hussey to step down.
"My actions in the past we're wrong and I have apologised for them," Mr Hussey said on Thursday.
"I do not seek to cause hurt by seeking to retain my position as deputy mayor. It was not me who caused the fatalities of these families or any fatalities."
'Slap in the face'
Martin Gallagher, whose 25-year-old son was killed in 2009, said he was "disgusted" Mr Hussey would continue in office.
"For him to say he is not giving up the chain is a slap in the face for us," he said.
Mr Gallagher's son, Martin junior, had been returning from Halloween celebrations when he was killed on 1 November 2009.
He said the family would now seek legal advice.
Derry student Robert Bradley was killed in Nottingham by a drunk driver 18 years ago, his sister said they would pursue the matter under the Northern Ireland Local Government Code of Conduct for Councillors.
Aileen Tester said Mr Hussey remaining in office had "compounded her family's anger".
Mr Hussey has three drink-driving convictions.
He was given a five-year driving ban and fined £800 in 2016 after pleading guilty. The previous offences date back to 2004 and 2011.
Four councillors abstained from Thursday's vote.