Rocket launcher snowman case dismissed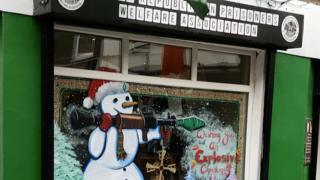 Charges against two Londonderry men brought after a snowman holding a rocket launcher was painted on the window of a republican support group's office have been dismissed.
Patrick Joseph Barr of Sackville Court and William McDonnell of Harvey Street were charged with displaying an image likely to cause a breach of the peace.
They were also charged with breaching the Indecent Advertisements Act.
A judge at Derry magistrates court dismissed the charges.
The men were charged after the image appeared at the office of the Irish Republican Prisoners Welfare Association in Chamberlain Street last October.
The image included the message: "Wishing you an Explosive Christmas."
Judge Barney McElholm said he was dismissing both charges despite "deploring" the image.
"It is unfunny and has no place in a right thinking society," he added.