Derry toddler death: Child suffered 13 blows to the head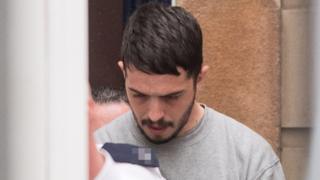 A three-year-old who was found dead in Londonderry last year had received 13 blows to his head, a court has been told.
Kayden McGuiness was found dead at a house in the city's Bogside on Sunday 17 September.
Liam Whoriskey, 23, from Glenabbey Gardens in Derry denies murdering the toddler.
During a bail application, Londonderry Magistrates Court was told Kayden died from one of several blows to head.
Mr Whoriskey was charged with murder after the results of an autopsy on the toddler were made available to the PSNI in May, said a prosecution barrister.
The child had sustained multiple head and scalp injuries in a single "blunt force attack", he added.
The court heard Kayden would have survived for only 30 minutes after suffering the fatal blow.
The autopsy also revealed the toddler had sustained a rib fracture, between six and 10 days before his death.
The defendant had been reported twice before for assaulting the child, the court was told.
On one occasion last August when photographs were posted on social media of the boy with two black eyes, the accused told police the child had hit himself with toys.
The defendant had previous convictions for domestic violence against previous partners, as well as convictions for assaulting his mother and brother, the court was told.
The child was found dead at about 09:50 BST on 17 September by Whoriskey, the trial heard.
He told officers he had been babysitting Kayden and the boy's younger sister while their mother was at a family function.
Whoriskey said he had put the child to bed and had heard him laughing and playing but when he checked on him the next morning, he found him dead.
He told police he had drunk four cans of Guinness while babysitting.
A PSNI officer also told the court police believed there was a paramilitary threat against the defendant.
Whoriskey, who appeared in court via video link from Mahagberry prison, was remanded in continuing custody until 23 July.