Londonderry man sent bullet death threat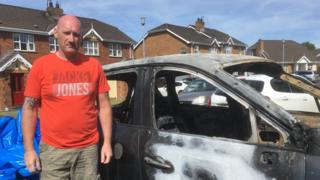 A Londonderry man whose car was set alight has said that he also received a bullet in an envelope and a death threat.
Waren Roberts was injured after a petrol bomb was thrown at his partner's house at Sevenoaks in the early hours of Sunday morning.
He has denied any link to drugs and has said that those responsible are cowards.
Police believe a gas cylinder had also been placed in the vehicle.
Police are working to establish a motive for the attack which was reported shortly after 03:30 BST on Sunday.
Mr Roberts said that he was woken up by his partner screaming that there was somebody outside the house and that the car was on fire.
"I ran out and tried to put the fire out and there was an explosion and I burnt my torso and upper arm.
"Somebody had left drugs at the driver door along with needles and syringes. I have no interaction with drugs whatsoever," he said.
"My children were in the house at the time and were in hysterics."
PSNI Chief Inspector Johnny Hunter said that it was a shocking and reckless incident.
"The impact is clear on Waren and his partner and the children in the house at the time.
"We are keeping all lines of enquiry open. We have seized the suspicious packages of drugs."
The police have appealed with anyone with information to contact them.