Dylan McDonald jailed for killing his brother in car crash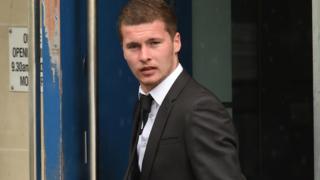 A man who killed his brother and cousin when a car he was driving crashed into a tree stump has been jailed for 12 months and banned from driving for six years.
Dylan McDonald, from Allen Park in Donemana, was driving at about 60mph when he crashed between Newbuildings and Magheramason in County Londonderry on 3 June 2015.
His brother Aaron McDonald, 19, and second cousin Michael McDonald, 21, were killed.
Neither were wearing seatbelts.
Dylan McDonald's mother and other family members were in court as the 21-year-old was sentenced on Friday.
He had previously pleaded guilty to causing the deaths of both men by dangerous driving.
McDonald was driving in the early hours when he lost control of the Volkswagen Golf on an undulating stretch of the road leading into a bend.
The car then crashed into a tree stump and split in half.
McDonald had no insurance, did not hold a full licence and was using a false number plate.
McDonald and his girlfriend, who was a front seat passenger, were both wearing seat belts and escaped with minor injuries.
A defence barrister told an earlier hearing that if ever there was a case underlining the importance of wearing seat belts then this was it.
The court heard that when he spoke to police officers at the scene he told them he saw full beam lights coming towards him and that he must have hit a large puddle before he lost control.
He said the back of his car went sideways and he then slid out of control.
Close relationship
Judge Philip Babington said he had read victim impact reports from the defendant's mother and other family members.
He said they demonstrated the devastating loss felt by the two families and the closeness of the relationship between McDonald and the two victims.
McDonald previously said he wished he had been killed in the crash.
Judge Babington told McDonald he would serve half of the 12 month jail sentence in custody and half on licence in the community.
'Raw, raw guilt'
A defence barrister previously said McDonald was "racked with guilt."
The barrister said McDonald was moved to tears every time the crash was mentioned and struggles to discuss it because of the "raw, raw guilt on his behalf."