Suspended sentence given for ex-Derry City footballer attack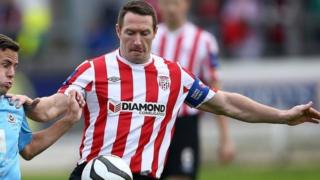 A man has been given a suspended sentence for glassing former Derry City footballer Barry Molloy, who was in a relationship with his estranged wife.
Martin Cheung, 39, from Ardban in Muff, County Donegal, admitted unlawfully and maliciously wounding the footballer in May 2017.
Mr Molloy sustained cuts to his ear and forehead in the incident at a Londonderry bar.
Prosecutors had said Mr Molloy did not want his attacker jailed.
At Londonderry Crown Court, Judge Elizabeth McCaffrey said taking into consideration the personal circumstances of the case and Cheung's previous good character, she considered it appropriate to suspend the six-month prison sentence for a period of two years.
'Split second'
Prior to the attack on Mr Molloy, Cheung had been at an all-day barbecue during which he had consumed a considerable amount of alcohol.
After the barbecue, the father of three went into the city centre with his cousins.
Judge McCaffrey said Cheung was aware that his estranged wife was in a relationship with Mr Molloy.
"You lifted your hand in which you had a glass and hit him on the side of the head with the glass," she told Cheung.
"When you were interviewed by the police you said you did not mean to hurt him and did not realise you had a glass in your hand for this one blow split second incident."
"You were shocked when you saw Barry Molloy bleeding", she added.