Pressure mounts on Derry deputy mayor over drink-driving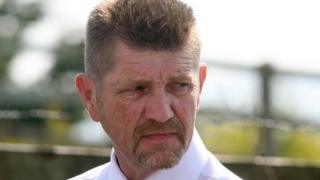 Londonderry's MP has called on the city's deputy mayor to consider his position amid growing pressure over his drink driving convictions.
Ulster Unionist Party Deputy Mayor Derek Hussey has three convictions for drink-driving offences.
Two local families whose loved ones have been killed by drunk drivers have called for his resignation.
Sinn Féin MP for Foyle Elisha McCallion said Mr Hussey should reflect on "the mood that is out there."
She said the deputy mayor should engage in conversations with families bereaved by drink-driving.
"He should reflect on that and ultimately consider his position," Ms McCallion said.
SDLP councillor, Brian Tierney, has also advised the deputy mayor to reconsider his position: "I have spoken to councillor Hussey and asked that he consider this hurt and informed him it would be the view of the SDLP that he should reflect on the upset this has caused to families and consider his position."
Martin Gallagher, whose 25-year-old son was killed in 2009, said he had "nothing against him personally".
"But it is about him being chosen as a public representative for the council," he said.
Mr Gallagher's son, Martin junior, had been returning from Halloween celebrations when he was killed on 1 November 2009.
He said should Mr Hussey not resign "then the council must ask him to step down".
The family of Derry student Robert Bradley, who was killed along with a friend in Nottingham by a drunk driver 18 years ago, have also called for Mr Hussey to step down.
Robert's sister Aileen Tester told BBC Radio Foyle the family will refer Mr Hussey to the local government watchdog.
"To be mayor or deputy mayor of this city should be a privilege," she said.
"That privilege should be bestowed on somebody who is willing to uphold the office with the highest integrity. We do not feel he can do that in his current position."
Last week, Sinn Féin councillors objected to Mr Hussey being named chair of the local Policing and Community Safety Partnership because of his drink-driving convictions.
Mr Hussey declined a BBC interview request but did say he would meet with the families to talk about the issues.
Mr Hussey also said he has spoken to the UUP party leader on the subject and will not be standing down as deputy mayor or as chair of Derry City and Strabane District's Policing and Community Safety Partnership.
He was given a five-year driving ban and fined £800 in 2016 after pleading guilty. The previous offences date back to 2004 and 2011.