Slurry incident victims in a stable condition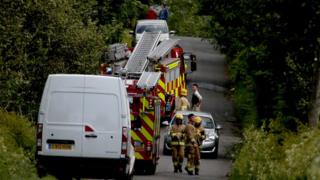 A County Londonderry father and son who were overcome by poisonous slurry fumes are now both in a stable condition in hospital.
The men were taken to Altnagelvin Hospital following the incident at a farm near Claudy on Saturday.
A spokesman for the Western Trust provided an update saying that: "Both men are now in a stable condition."
It is understood the younger man was trying to remove sheep from a shed where slurry was being mixed.
Farmer Ian Buchanan, a friend of the family, said both the father and son, who is in his 40s, knew the risks involved with mixing slurry.
"They were mixing slurry in the shed and would have known to stay out when they were mixing," he told BBC Radio Foyle.
"But there was a couple of sheep that ran into the shed, a couple of lambs, so he ran in to get them out."
'Lonely job'
Mr Buchannan said the elder man, who is in his 70s, went into the shed to help and" he went down as well".
He said it was fortunate the men were not working alone.
"The fact there was someone to raise the alarm was crucial," he said.
"Farming can be so often a lonely job and there are so many cases where the farmer is farming by himself."
Mr Buchanan said the whole community was "thinking and praying for the men" and praised the work of the emergency services.
The Northern Ireland Ambulance Service received the call at 15:45 BST and two accident and emergency vehicles attended, along with an ambulance officer and the air ambulance.
The Health and Safety Executive has been informed and said it was investigating the circumstances.
Prayers were said for the men at churches in Claudy during Sunday's worship.