Donemana man 'racked with guilt' over fatal crash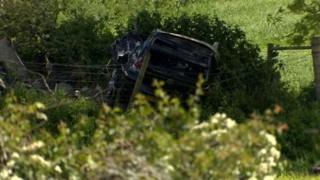 A man, who admitted causing the death of his older brother and his second cousin by dangerous driving, has said he wished it had been him who died.
Dylan McDonald, 21, from Allen Park in Donemana, was driving at about 60mph when the crash happened on 3 June 2015.
He also admitted driving without insurance, a licence and using a false number plate.
His brother Aaron McDonald, 19, and second cousin Michael McDonald, 21, were killed in the crash.
The car was split in two pieces after it struck a tree stump on a road between Newbuildings and Magheramason.
Both men who died were back seat passengers and were not wearing seat belts.
A teenage girl who was sitting in the front passenger seat survived the crash. She and the accused were both wearing seat belts.
'Raw, raw guilt'
The car had been travelling from Strabane to Londonderry at the time of the crash.
Dylan McDonald told police at the time that he believed he may have hit a big puddle and the back of the car went sideways as it slid.
Londonderry Crown Court was told the car had no defects and was in good mechanical condition.
A defence barrister said McDonald was "racked with guilt" and wishes it was his life that had been taken.
The defence barrister said he was moved to tears every time the crash was mentioned and struggles to discuss it because of the "raw, raw guilt on his behalf".
The barrister said the accused and the deceased were inseparable. He added that they had gone through school together and were on the sports field together.
The barrister also said McDonald should never have acquired the car or sought to drive it.
The court was told that relatives of the deceased had appealed to the judge for clemency when sentencing.
The family home was now described as empty and the court was told how McDonald had to pass his brother's bedroom every day.
The judge said it was an "extremely difficult case and heart wrenching for those involved".
McDonald will be sentenced next week.