Claudy: Repair work on flood-damaged bridge further delayed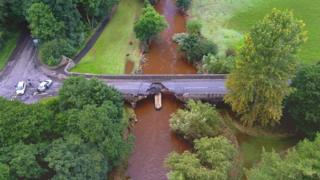 The Ballynameen Bridge in Claudy, which partially collapsed in floods last August, will not be completely repaired until September, the Department for Infrastructure has confirmed.
The bridge was a main link for transport through the village. A four mile diversion has been in place since its collapse.
July was the target date for the bridge to be fully repaired.
A local retailer said businesses had "suffered dramatically".
Kienan McLaughlin, a business owner in Claudy, said: "It's been hard enough already on everyone.
"All the shops in Claudy have seen a massive downturn. I know we have in our shop."
'Totally cut off'
Six hundred and fifty bridges in the region were damaged by the flooding.
Mr McLaughlin told BBC Radio Foyle that the local GAA club has been totally cut off from the village.
"Travelling teams come and they get diverted here, there and everywhere. It's a total inconvenience."
UUP councillor Mary Hamilton said businesses in the village should be considered for a relief in rates.
A spokesperson for the Department for Infrastructure (DfI) said: "The delay in delivery of the work is in part due to seasonal constraints on working within a salmanoid river and the need to finalise the appropriate statutory consents.
"DfI Roads apologises for the disruption and thank those living and travelling in the area for their ongoing patience."