Derry studio Dog Ears to make new app cartoon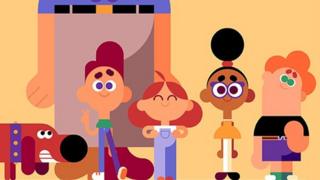 The Londonderry-based media firm Dog Ears, which is behind the series Puffin Rock, has been given the green light for a new cartoon called Saturday Club.
The show will feature on the UK-based app Hopster TV and will help children explore their emotions.
Set in a makeshift den, the show will follow Jo, Suzy, Jamie and Tian, as they gather every Saturday to discuss their week.
They will step into the shoes of other people to see how they would feel.
Puffin Rock, which aired for the first time on Nickelodeon and RTÉ in 2014, follows the adventures of a family of puffins on a wild Irish island.
John McDaid, creative director at Dog Ears said: "We're excited to announce this partnership and bring this joy-filled show exploring empathy to life.
"The power empathy has to change how children see the world, and understand themselves better in the process, is something we're passionate about.
"It's looking good in terms of having Derry voices for the characters."
Richard Williams, CEO of Northern Ireland Screen, added: "The growth of children's programming is an important priority for us and through development funding support, we are delighted to have played a small part in the success of this engaging project from Dog Ears."