Tobermore: NI Water admits river pollution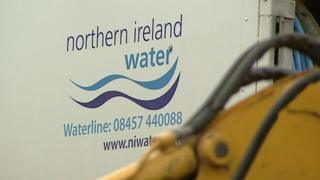 Northern Ireland Water (NIW) has pleaded guilty to polluting a river in County Londonderry which was found to be 142 times over an EU directive for poor water quality.
The pollution came from one of NI Water's stations at Fortwilliam Bridge in Tobermore on 15 February 2017.
A pipe between two tanks became blocked, causing a spillage into the neighbouring river.
It is the first time the company has been prosecuted in the crown court.
A prosecution barrister said an alarm went off at the station at 02:24 GMT but the company's field manager on duty waited until 08:00 GMT before alerting the area manager.
A defence barrister for NIW told Londondery Crown Court the spillage occurred because of a blockage in a pipe between two tanks which was controlled by an electronically operated valve.
Avoidable
The court was told that the major pollution spill was completely avoidable.
Judge Philip Babington said NIW ignored "the potential damage threat to the river" by waiting eight hours to send to the site after an alarm was raised.
No one was sent to survey the pollution site until 10:30 GMT.
The prosecutor said the pollution spillage continued during that eight hour delay because where was no automatic shut off in place as a preventative safeguard.
Defence barrister, John Rafferty, said because of the blockage in the pipe the valve did not fully close, causing the spillage into the neighbouring river.
Mr Rafferty said since this incident, the valve is now operated manually rather than electronically.
He said the judgement call made after the alarm was sounded, was in fact the wrong call, and that it led to the delay in staff arriving on site.
Sentencing
Mr Rafferty said that because Northern Ireland Water depends on a subsidy from the Department for Infrastructure, any potentially heavy fine could impact on that subsidy level.
The judge asked Mr Rafferty if he was "seriously saying to this court if I fine this company, which made £96m in profit last year, that Joe Bloggs out there is going to suffer?".
Mr Rafferty said: "The profits do not remain in the company's pocket and go instead to the Department for infrastructure."
Judge Babington said he will sentence the company on Thursday.