Derry and Strabane: SDLPs John Boyle elected mayor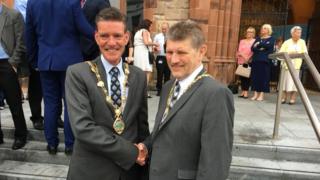 SDLP councillor John Boyle has been elected as the new mayor of Derry City and Strabane District Council.
UUP councillor Derek Hussey is the new deputy mayor.
The outgoing mayor, Sinn Fein's Maolíosa McHugh, was criticised by unionist councillors on Monday night for "not being a mayor for all."
Mr McHugh said he has "no regrets" over his refusal to meet Prince Charles last October.
He decided not to meet the prince when he visited flood victims in Derry last October..
'Damaged community relations'
Derek Hussey said: "There were a lot of concerning moments and he certainly wasn't a mayor for all.
"He made so many promises about reaching out that didn't materialise."
Independent councillor Maurice Deveney told BBC Radio Foyle that Mr McHugh damaged community relations.
"It was nice of Prince Charles to visit the local community after the serious floods. People from both sides were affected but Maolíosa couldn't reach out.
"He also didn't go to a garden party at Buckingham Palace."
Mr McHugh said he did not meet Prince Charles because he did not wish to "isolate the families of Bloody Sunday in Derry".
Fourteen people were killed on Bloody Sunday when British paratroopers opened fire on a civil rights march through the city in January 1972.
'No regrets'
"I made my position quite clear at that time, that I was not in any way going to isolate the families of Bloody Sunday in Derry who are still waiting on the decision by the Department of Public Prosecutions in relation to the prosecution of soldiers who committed murder on the streets of Derry," he told BBC Radio Foyle.
He said he had "no regrets whatsoever" about his time as mayor.
In September 2017, Mr McHugh had to defend wearing the mayoral chain outside Maghaberry jail after visiting dissident republican prisoner Tony Taylor.
Mr McHugh said he felt "privileged" to have been mayor.
"In many ways the real highlight to me was in fact engaging with the people of this city themselves, and the children of this city , they were so welcoming in every respect," he said.
City deal
The new mayor of Derry City and Strabane District Council John Boyle said he was deeply honoured at being chosen.
"I will serve all the people of the city and district with integrity and honesty, regardless of their religion, class, colour, sexual orientation, gender or political affiliation, " Mr Boyle said.
"It is my intention to continue to work towards achieving a city deal for our council area.
"Our university must be assisted in realizing our ambition to see student numbers expanded with more educational courses on offer.
"Key to this is the further development of the proposed medical school at Ulster University and I welcome the opportunity to hear their plans in the coming days."