Walled City Marathon: First-time runner wins women's race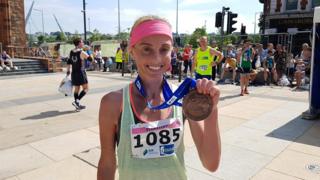 The women's race at the Walled City Marathon has been won by a runner taking on her first ever marathon.
Heather Noone from County Mayo made it round the 26.2 mile course in Londonderry in three hours and five minutes.
A total of 1,400 runners left the Everglades Hotel on Prehen Road at 08:30 BST on Sunday. The finishing line was in Guildhall Square.
The men's contest was won by Dan Tanui in a time of two hours and 19 minutes.
"I'm so shocked," said Ms Noone.
"I'm from Mayo but live in London. Mayo will be proud today. I'm so proud of myself.
"It was warm out there but beautiful too along the River Foyle.
"I really want to do more marathons now."
The marathon has been held in the city now for six years.
"I'm extremely delighted," Mr Tanui told BBC News NI.
"The weather conditions were lovely. It was a bit hot at times but I've been through worse.
"The crowd really kept me going. I'm very proud."
BBC News NI's Dean McLaughlin at Guildhall Square
Hundreds of people were in Guildhall Square cheering for their family members and friends.
Many people made banners and one child wore a T-shirt saying "run daddy run".
It was 20C in Derry on Sunday so a lot of the runners struggled. Their focus was to get that medal at the finishing line, along with a banana and water.
Some of the main roads were very busy for a time but the day came to a close with spectators eating ice cream and enjoying the sunshine in the square.