Trust apologises to family over 83-year-old's death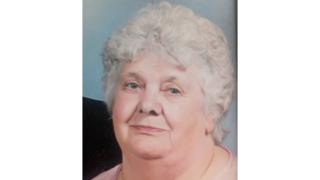 A health trust has apologised to the family of a woman who died on the floor of a Londonderry hospital.
Brigid Cavanagh, 83, died five days after being admitted to Altnagelvin Hospital in July 2016.
She had been admitted following a fall at her home.
An inquest, which concluded on Thursday, found that staff "missed opportunities" to provide better care and treatment.
Coroner Patrick McGurgan also found that a nurse changed her account of what had happened on the morning Mrs Cavanagh died.
Mr McGurgan found that Mrs Cavanagh "died alone" after suffering a terminal collapse and fell from her bed whilst "the cot sides were down".
The position of the safety cot side had been a major factor of the inquest with hospital staff consistently insisting they were raised when they discovered Mrs Cavanagh lying on the floor.
The coroner also found that one nurse had made an addition to her original account of what had happened on the ward on the morning of July 16, 2016 and added "the cot sides were up".
He criticised the quality of the notes documenting the care given to Mrs Cavanagh and the level of communication staff had with her family.
Mrs Cavanagh, who had a complex medical history of chronic heart and renal failure, died on 20 July 2016.
Mr McGurgan said "too much emphasis" was given to Mrs Cavanagh's heart condition and "not enough to the pain in her hip" following her admission
He said there should have been consultation with an orthopaedic surgeon.
Her son Vincent told BBC Radio Foyle the family received an initial telephone call from hospital staff to say Mrs Cavanagh had "taken a turn for the worse."
Shortly after they received a second call to inform them she had died.
'In shock'
"When family members arrived at the hospital we were told very quickly that the bed's cot sides were up," Mr Cavanagh said.
"We did not know what they were talking about and were in shock. It was only after a period of time we found out she was actually found dead on the floor."
Mr Cavanagh said his mother had been on the floor for at least 45 minutes.
He added that his family were robbed of the chance of to say a proper goodbye to their mother
"We loved our mother and she was devoted to us, it is very difficult to realise that in her last moments she was on her own, on the floor of the hospital," he said.
"It is very difficult to think that she ended up in this way."
The Western Health and Social Care Trust has apologised to Mrs Cavanagh's family.
A trust spokesperson said it "wished to express our sincere sympathy to the family of Brigid Cavanagh."
"The trust works closely with the coroner's office in cases of this nature and will take on board any recommendations following this inquest," the spokesperson added.
Mr Cavanagh said the family "acknowledge the apology."