Paramilitaries 'not behind assault'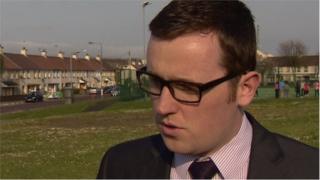 A Londonderry assembly member has said he does not believe any paramilitary organisation was responsible for a serious assault in the city.
Three men were attacked in the Waterside area of the city at about 01:40 BST on Sunday.
Police said they are investigating a potential link to loyalist paramilitaries.
However DUP MLA Gary Middlteon said he does not believe any organisation was involved.
"I do have some concerns around some of the information that has been put out, it is my belief, inaccurately," he told BBC Radio Foyle.
"At the same time, this incident happened and needs to be investigated and those involved need to be dealt with."
He said he did not believe it "was a case of any particular organisation being involved."
Mr Middleton said he believed the incident had been fuelled by alcohol.
"My understanding is an altercation broke out on the lower Dungiven road and ended up in the Bonds Street area," he added.
Police received reports that a number of men were seen armed with what were described as a sledgehammer and hammers in the Bonds Street area.
The Northern Ireland Ambulance Service found three injured men.
Two of the men were in their 30s and one was in his 40s. The men were taken to hospital where they received treatment for their injuries, and have since been released.
The PSNI said they believe the three men were the victims of an "unprovoked and cowardly attack."