Parable of the Talents inspires vicar's £10 handout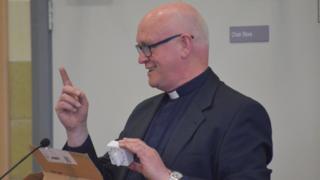 A Londonderry rector has given parishioners £10 each to live out a biblical parable and raise funds for their flood damaged church.
Canon Paul Hoey gave the money to the congregation of St Canice's Church of Ireland following Sunday worship.
It is hoped their fundraising will be inspired by the Parable of the Talents.
In the Gospel story, Jesus tells of a master who gave his servants talents to invest and two doubled their money while the third buried the cash.
"We're putting our faith in our parishioners," Canon Hoey said.
"We're investing in their talent. Every one of us has been given at least one gift by God. We want people to see that, to use their talent and to help their church."
Services have been held in a local primary school since St Canice's, in the County Derry village of Eglinton, was damaged by flooding last August.
The clergyman handed out almost £1,000 after the service on Sunday.
He said people were already planning cake sales, charity football matches and other fund-raising events.
"All we ask is that you at least return the money you receive," Canon Hoey told his congregation on Sunday.
"We're not just doing it to multiply the money - good as that might be - we want you to use it in a way that blesses other people, so that they see something of God's love." he added.
Parishioners have been given six weeks to raise money for the parish restoration fund. They will return their profits, or the original £10, at a special "You've Got Talent" service of thanksgiving on 24 June.
St Canice's Church and the parish hall have been closed since being damaged in last year's flooding.
The Church is due to reopen next month.