Eternal Londonderry peace flame burns again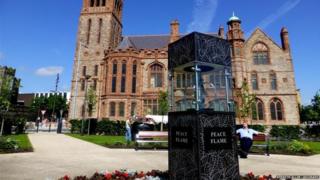 Ireland's only eternal peace flame is burning again eight months after being put out by technical problems.
The flame, housed in Londonderry city centre's Peace Garden, went out last October.
One of 15 Peace Flames across the world, it is maintained by Derry City and Strabane District Council.
The Mayor of Derry said the flame has now been "restored to full working order."
"We are delighted to say that after much work to repair the flame and resolve some design faults which have been an issue since it was installed, the Peace Flame is now up and running again," Maolíosa McHugh said.
He said the technical problems were compounded by several incidents of vandalism in the peace garden since the flame was first lit in 2013.
The flame was a centrepiece of the Bright, Brand New Day peace initiative, which ran during Derry's year as UK City of Culture
Bright, Brand New Day organiser, Reverend David Latimer of First Derry Presbyterian Church said he was delighted to see the flame restored.
"Difficulties associated with keeping our flame burning serve to remind us there is no magic formula to suddenly make all things new," he said.
Rev. Latimer said the flame " represents the change we each can make by the way we think, speak, feel and act so as to bring about a better future for all regardless of age, colour, creed or culture."