Newtownstewart: Thousands stolen from Hempton's Bar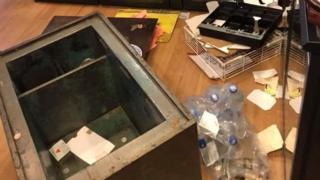 Thousands of pounds have been stolen from a pub in Newtownstewart, County Tyrone.
The PSNI said Hempton's Bar on Main Street was broken into sometime between 01:00 BST and 07:00 BST on Tuesday.
It's the third time the bar has been burgled in the past five months. It was broken into on Christmas morning just 48 hours after another raid.
Aaron Hempton said he didn't know how much money was taken from the safe but that it could be up to £10,000.
Mr Hempton said "the wider family is totally gutted".
"They picked the same route as the last time," said the Newtownstewart man.
"They did their research. They ripped the door frame out to gain entry. Behind the bar was ransacked and the wall was busted.
"The safe had been pulled out into the middle of the floor and emptied.
"You need to know what you're at in order to get into it."
Mr Hempton added: "We lost our father back in January so we've been finding it hard to cope as it is. This is just a real kick in the teeth.
"The bar is our bread and butter. It pays our wages and that's how we live.
"We're not closing the door yet but it does make you wonder what it's all about.
"They don't realise what impact this is having on myself and my mother. It's really gutting."
The PSNI has appealed for anyone who noticed any suspicious activity in Newtownstewart on Tuesday morning to come forward.