Red squirrels return to Derry woods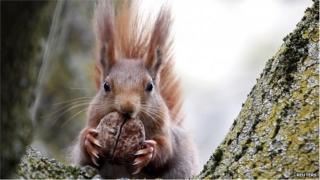 Native red squirrels have returned to a Derry woodland where they were thought to have been wiped out by their grey cousins.
The North West Red Squirrel Group said sightings of reds have increased in Muff Glen over recent weeks
The boost in red squirrel numbers follows a cull of more than 40 greys in the area.
The group has called on local people to report sightings to help document red squirrel numbers.
Pam Hardeman, of the conservation group, said they believed around six reds had returned to Muff Glen.
"It is excellent news," she told BBC Radio Foyle's Mark Patterson Show.
"They are moving back into an area where we really want to see them.
"We have had a camera opposite a feeder since the middle of March where the sightings were all of greys. One month on and it is all reds being seen, there has been just one sighting of a grey," she said.
She said a cull of greys was a necessity.
"If we hadn't been doing it there would have been no reds at Muff Glen," she added.
Grey squirrels are currently culled because they carry squirrel pox, a disease that is fatal for native reds.
They also outcompete the reds for food.
Earlier this year, sightings of red squirrels in Derry's City Cemetery also sparked hope for the survival of the native squirrel in the north west.
Sightings have also been reported in the city's Prehen woodland in recent months, another area where the population was thought to have dwindled.
Numbers of native red squirrels have dwindled across Ireland and it is now regarded as one of the island's most endangered mammals.
Conservationists estimate there are currently about 140,000 Irish reds.
The squirrel group has urged anyone in the north west who sights a red to contact them.