Snow Patrol's Johnny McDaid honoured with civic reception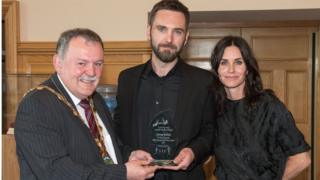 Snow Patrol guitarist Johnny McDaid has been honoured with a civic reception in his home town.
The Londonderry reception marked the musician's success with Snow Patrol and as a songwriter and producer.
Maolíosa McHugh, the mayor of Derry, hosted the private reception at Londonderry's Guildhall.
McDaid has written songs for, and with, some of the world's best-selling artists including Pink, Robbie Williams and Ed Sheeran.
The Snow Patrol star said he was delighted to be honoured in his home town.
"It's everything to be able to come home and it's lovely for me to get the chance to recognise what Derry means to me," he said.
"I'm delighted to get the opportunity to come to the place where I grew up and the streets that I busked in."
Family and friends, including the musician's fiancée, actress Courtney Cox, attended the reception on Friday.
As a songwriter, the Derry musician's credits include Ed Sheeran's 'Shape of You', the biggest selling song of 2017.
It topped the charts in 34 countries.
Derry's mayor said the musician is "a great example to our young people of what can be achieved through hard work and dedication to your craft."
"The city and district has a long tradition of musicians going on to record and perform on the world stage and even by our own highs standards, Johnny's music career has been nothing short of prolific," he added.