Derry exhibition marks Civil Rights 50th anniversary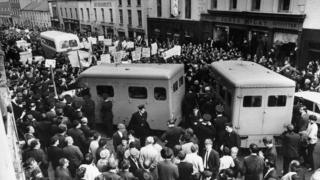 A new exhibition detailing Londonderry's role in the global civil rights movement has opened in the city.
The "Lost Moment" is curated by Sean O'Hagan, who writes for The Guardian and The Observer.
The exhibition at The Nerve Visual Gallery at Ebrington includes work from photographers Steve Schapiro, Buzz Logan, David Hurn, Josef Koudelka and Ian Berry and Gilles Carron.
It spans 1968 and 1969 and charts protest movements across the globe.
The exhibition's curator, who is originally from County Armagh, said the collection mixes the work of professional photographers with those directly involved in the protests.
"We wanted to mix that up, that in itself is quite a difficult balancing act.
"It is the notion of the really great photographers , like the Magnum photographers, David Hurn or Joseph Koudelka, coupled with a kind of citizen photojournalism, from the people who were in it and taking photos, not the greatest photographs, but photos that have a certain power and beauty to them," Sean told BBC's The Arts Show.
The exhibition documents the Northern Irish civil rights movement, from the first march in August 1968 to the Battle of the Bogside in 1969.
It is captured though the work of Gilles Caron, Clive Limpkin, David Newell-Smith, Buzz Logan, Barney McMonagle, Eamon Melaugh, Larry Dickinson and Tony McGrath.
The late sixties protest movements in Paris, Prague, Chicago and London are also documented.
Trish Lambe from the Gallery of Photography in Dublin said there was a "zeitgeist in the air at the time that things were changing"
She said the advent of television in the late 1960s give rise to "an international awareness of civil rights issues."
The exhibition also features publications and pamphlets issued by unionists in response to the civil rights movement.