Demand for food banks drops slightly in Northern Ireland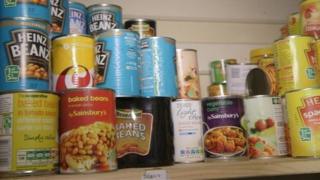 The number of emergency food supplies given out to people in Northern Ireland fell slightly last year, new figures show.
The Trussell Trust said their food bank network distributed more than 32,400 three day food parcels across Northern Ireland in 2017/18.
That figure is a 1% drop on the previous year.
More than 13,200 emergency food parcels went to children in Northern Ireland.
Tony Graham, Northern Ireland director for The Trussell Trust, said any decrease in the need for food banks "however small, is welcome".
"No-one in Northern Ireland should be left hungry or destitute," he added.
"Illness, disability, family breakdown or the loss of a job could happen to any of us and we owe it to each other to make sure sufficient financial support is in place when we need it most."
Universal Credit
The charity said 45% of referrals in Northern Ireland were because people on low incomes or benefits were unable to make ends meet, up from 41% on the previous year.
It also pointed to delays in the payment of benefits and benefits changes, including the switch to Universal Credit, as being significant factors.
Mr Graham said: "While the benefits freeze is currently ongoing in Northern Ireland, we hope the flexibilities and mitigations which support people on the lowest incomes are leading to a deceleration in food bank use.
"Universal Credit may not be fully rolled out yet but it is the future of our benefits system.
"It's vital we get it right in Northern Ireland and ensure levels of payment keep pace with the rising cost of essentials, particularly for groups of people we know are already more likely to need a food bank."
Complex reasons
He said people living with a disability or illness as well as families with children and single parents were particularly at risk.
Across the UK the charity said it saw a 13% increase in emergency food supplies last year.
More than 1.3 million three-day food packages were provided by the trust last year.
The UK government said the reasons people use food banks are complex.
The Department for Work and Pensions said: "It's wrong to link a rise to any one cause.
"Meanwhile, we continue to spend £90bn a year on welfare to support those who need it most," said a spokesperson.
"The best way to help people improve their lives is through employment, with people on Universal Credit moving into work faster and staying in work longer."