'Lucky' north west nets fourth big lotto win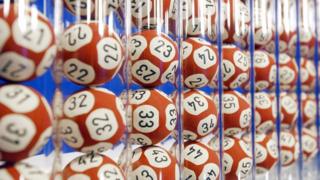 If you want to win the lottery you could do worse than buy your ticket in Ireland's north west.
With two big wins in Londonderry and two just across the border in Donegal this year, the region is on a run of lotto luck.
The north west wins have netted more than £5.5m in prize money in 2018.
In the latest Euromillions win, a Derry man scooped a £1m prize on the Millionaire Maker game.
Known only as Mr M, he won with an online Lucky Dip in a special draw on 13 April.
The city's newest millionaire was one of 13 across the UK to win £1m on Friday the 13th.
"Huge congratulations to Mr. M for winning this fantastic prize without even touching a ticket - after a few simple clicks he has become a millionaire," the National Lottery's Andy Carter said.
A week before the Derry man's win - and just 11 miles across the Irish border in County Donegal - a €284,964 (£250,000) winning Irish lotto ticket was sold in Newtowncunningham.
The manager of the shop that sold the ticket, Andy Kernan, said the store sold two Lotto jackpot winning tickets in 1990 just three weeks apart - but has "had a wee bit of a wait" for the latest big win.
"Good things certainly come to those who wait so we are absolutely thrilled that somebody in the locality has picked up such a large lotto prize," he said.
Donegal can also boast the region's biggest lotto winner of 2018. In January one lucky player scooped a 4.4m euros (£3.9m) lottery jackpot.
The golden ticket was sold in Daly's service station in Lifford. That jackpot had been rolling over since 23 December and the winning ticket was a "quick pick" sale.
A month after the Donegal jackpot win, back across the border in Derry, another lucky punter scooped a £224,000 prize in the Euromillions.
The win in February had been subject to a lottery appeal after the ticketholder failed to initially claim the prize.
But Mr Carter said National Lottery was "delighted that the winner of this amazing prize has now come forward."
The region's purple patch of lotto wins comes despite the closure of the second luckiest lottery shop in Ireland.
O'Neill's shop in Bridgend - a County Donegal village that lies just a few hundred yards across the border from Derry in Northern Ireland - ceased trading in February.
Since the Irish lottery launched in 1988, the on-the-border shop sold 12 jackpot-winning tickets.