Call for more park wardens to prevent underage drinking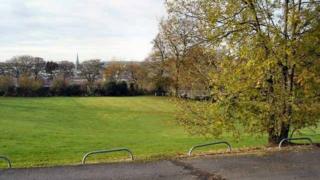 A Londonderry MLA wants more wardens to patrol a city park amid concerns about underage drinking.
Police were called to St Columb's Park on Saturday night after around 100 young people had gathered in the area.
The PSNI said there were no arrests on Saturday and the area "was cleared and quiet by 11.15pm."
DUP MLA Gary Middleton said an increased number of park wardens would "deter those who want to come and cause trouble."
Mr Middleton told BBC Radio Foyle children as young as 11 were among those who gathered in the park.
"It is something the residents of the area have been putting up with for some time. Last year we saw one of the most proactive years in terms of organisations coming forward with solutions," Mr Middleton said.
He said said it was important to address concerns as quickly as possible "so this doesn't set a theme for the rest of the summer."
Mr Middleton said an increase in Derry City and Strabane District Council park wardens at Derry's Brooke Park had helped address antisocial behaviour there.
"I think the council need to come forward with a proposal around additional wardens specifically for St Columb's park, the way they have done with Brooke park and it has worked well.
"In the first instance we need to see additional wardens," he added.
A spokesperson for Derry City and Strabane District Council said it continues to work with a number of agencies including the PSNI "to look at solutions to ensure St Columb's Park is a safe and family friendly environment for everyone."
"The council will be meeting with relevant agencies this week to discuss the incident and to look at options to assist address this issue ahead of the summer months," she added.
A PSNI spokesperson said police received a report about the large number of young people in the park at 17:45 BST.
"Officers attended the location and monitored it for the duration of the evening. The Northern Ireland Ambulance Service was called to attend to one individual. There were no arrests and the area was cleared and quiet by 11.15pm," the spokesperson added.