Londonderry students hear civil rights story 50 years on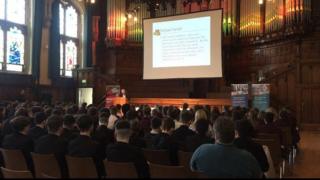 Hundreds of Londonderry schoolchildren have been learning about the civil rights movement from some of the people who led the protests.
The Schools Civil Rights Workshop marks the up-coming 50th anniversary of the 5 October 1968 march in Derry.
Students heard first-hand accounts from activists who were involved in the civil rights movement.
The workshop was organised by the North West Historical Association and the Speeches, Strikes and Struggle Project.
Mayor of Derry and Strabane Maolíosa McHugh said the workshop gave students the chance to "find out more about a movement which had a major impact on the lives of local people."
"To hear the story from some of the protagonists themselves is a fascinating and unique opportunity to hear first-hand accounts of some of the events which changed the course of history at that time," he added.
Schools taking part included Foyle College, Oakgrove Integrated College, St Columb's College, and St Joseph's Boys School.
Oakgrove college pupil Hanna Orr said the event had added a new perspective to the curriculum.
"When you learn about these subjects at school you hear the factual side but learning from personal and emotional experiences, it makes you empathise more with it," she said.
The 5 October 1968 march in Derry was banned by the Northern Ireland government.
When the group marched in defiance of the ban, some of the police baton-charged demonstrators.
Among those injured in the clash were Belfast MP Gerry Fitt and three Westminster MPs who had been invited to Derry.
The violence was broadcast around the world.
Historian Dr Emmet O'Connor, who chaired a question and answer session involving students and civil rights activists, said that media coverage brought a global focus to events in Northern Ireland.
He said it was important students were informed of the events of 50 years ago.
"All history will be forgotten unless we choose to remember and we can be very selective about what we do choose to remember.
"Unless we have conferences like this, the next generation will forget about it, even things as important as the civil rights movement," he added.
Among the civil rights activists to be quizzed by students were Eamonn McCann, Aidan McKinney and Anne Devlin.
Emma McGarrity, the Speeches, Strikes and Struggle Project's learning officer, said the event at the Guildhall encouraged students "to engage with the content being delivered in the classroom."
"It's so fitting that this workshop is being hosted in the Guildhall, as it has been the site of many active protests in the pursuit of civil rights over the years," she added.