'Act of God' leaves Donegal church under threat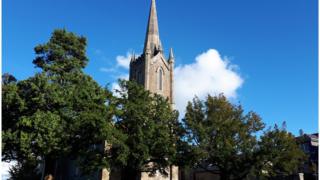 More than €150,000 (£131,000) is needed to repair the spire of a County Donegal church that was badly damaged by a Christmas Day lightning strike two years ago.
A fundraising appeal has been launched to save the spire at Donegal Parish Church in Donegal Town.
Damp is causing the stonework of the 190-year-old spire to crumble.
The church's interior also needed extensive work following the 2016 lightning strike.
It is thought the lightning hit the spire and travelled through the church.
The Archdeacon of Raphoe David Huss said the repair work is both specialised and expensive.
He said the church, the town's tallest building, has failed to secure government funding for the works.
"The cost of the entire repair project is estimated at €150,000.
"To our great disappointment, we were recently turned down by the Department of Arts, Heritage and the Gaeltacht for a grant under the Structures at Risk Fund.
"To date we have received no funding from local or national government, although we continue to explore these avenues and to engage with our local elected representatives and grant-making bodies," he said.
The parish has planned a number of fundraising events over the coming months.