Magee medical school on track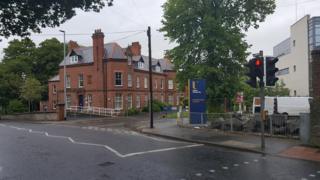 Plans for the first intake of trainee doctors to start their studies in Londonderry next year remain on track, Ulster University has said.
About 60 doctors will start training at the university's medical school at its Magee campus in Derry.
Currently, the only medical school in Northern Ireland is at Queen's University in Belfast.
It is hoped student numbers will rise to 120 per year within five years of the school's opening.
"We have submitted our outline business case, which includes funding considerations, to the Department of Health and are currently working through a number of recommendations from the Department," a university spokesperson said.
"In parallel, the University has submitted an application to the General Medical Council (GMC) under its New School or Programme Application process."
The spokesperson said as well as progressing with the GMC programme it is also "securing recruitment and clinical placement plans."
"The University aims to be in a position to welcome the first intake of 60 medical students in the Autumn of 2019, increasing to 120 per year students over a five-year period," the spokesperson added.
Derry's Sinn Fein MP Elisha McCallion, who met with university officials last week, said the medical school at Magee is "an integral part of a strategy to develop the wider north west region".
"We have continually engaged with university staff and key stakeholders to ensure their commitment to completing this ground-breaking project. I am glad they remain committed to delivery of this project," she said.