SDLP to discuss abortion conscience vote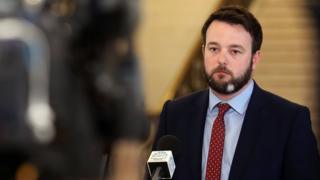 The SDLP are to hold a special conference to review the party's position on abortion.
Party leader Colum Eastwood said there were no plans to change the SDLP's pro-life stance.
He said some party members had raised the issue of being allowed to vote with their conscience on the issue.
Mr Eastwood said the conference would take place ahead of May's referendum on abortion laws in the Republic of Ireland.
Northern Ireland's abortion laws are more strict than the rest of the UK.
An abortion is allowed only if a woman's life is at risk or there is a serious or permanent risk to her mental health.
Rape, incest and fatal foetal abnormalities are not circumstances in which an abortion can be performed legally.
'Conscience issue'
Holding a discussion on a freedom of conscience vote was the right thing to do, Mr Eastwood told BBC Northern Ireland's The View programme.
"We are not talking about changing the fundamental position, the party position is pro-life but the party membership set out our policies," he said.
"What we are talking about and what is up for discussion is the issue around conscience.
"Can we allow people to have that option of a moral conscience? That is the discussion across every political party in Ireland - so it would be strange for us not to have that discussion," Mr Eastwood said.
Voters in the Republic of Ireland will decide on 25 May if they want to make changes to Ireland's strict abortion laws, upheld in the Eighth Amendment of the Irish constitution.
The eighth amendment to the Republic's constitution, introduced in 1983, "acknowledges the right to life of the unborn."
Abortion law in Northern Ireland is based on the Offences against the Person Act 1861, which made it an offence to terminate a pregnancy.
In 1945, an exception was added to allow abortion in order to preserve the life of the mother.
Abortions are also allowed if continuing with the pregnancy will result in other serious physical or mental health effects.
The punishment for breaking the law remains life imprisonment.
Timeline of NI abortion law challenges