Stones and bottles thrown at Derry crash police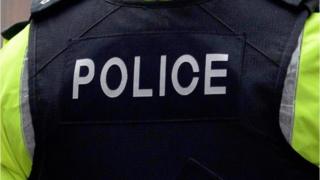 Police in Londonderry have been attacked with bottles and stones while attending the scene of a road traffic collision.
It happened at about 16:00 BST on Sunday in the Rossville Street area of Derry.
Officers who attended the collision between a motorbike and car were attacked by as many as 15 young people, police said.
Officers' body camera footage is being used to identify the attackers.
A police vehicle was damaged in the incident.
The motorcyclist was later treated in Altnagelvin hospital for injuries sustained in the collision.
"When officers attended the scene to assist, a crowd of between 10 and 15 young people threw stones and bottles at them," said PSNI Sergeant Smyth.
"This anti-social behaviour was captured by police on body-worn video and will be use for the purposes of identifying offenders and offences."
Sgt Smith urged local parents to make sure they knew where their children were are, what they were doing, and to talk to them about "the danger of getting caught up in the moment".
He warned of the "possible outcomes they could face if they are found committing any offences".