Kathleen Thompson: Ex-soldier 'accepts possibility' he fired fatal shots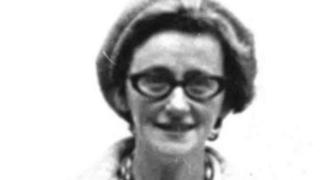 A former soldier has broken down in court saying he had to face the possibility it was his bullet that killed a Londonderry woman in 1971.
Kathleen Thompson, 47, a mother of six, was shot dead in the garden of her Creggan home on 6 November that year, during an Army raid on the estate.
The former soldier, who is known to the inquest as Soldier D, was giving evidence on the second day of the case.
A previous inquest into her death, held in 1972, returned an open verdict.
The new inquest, held at the city's courthouse, was ordered in September 2013.
Soldier D gave his evidence from behind a screen that shielded him from the public gallery, but he was visible to members of Mrs Thompson's family.
'Appalled'
He told the inquest that he fired two shots at the fence of Mrs Thompson's home after he saw a flash and heard a bang, which he believed was a shot being aimed at him.
Counsel to the coroner asked Soldier D if he accepted that "the likelihood is it was your bullet which struck Mrs Thompson".
He replied: "I certainly do have to accept that very possibility but I was aiming at what I thought was someone discharging a weapon at me.
"I am appalled if it was me who was responsible."
When the counsel asked if he regretted his actions, the former soldier became upset and nodded his head.
'Shot at'
In statements he made to the Royal Military Police hours after the fatal shooting and, in 2010, to the Historic Enquiry Team (HET), the former soldier said he had fired at a fence in the garden of Mrs Thompson's house after a shot had been fired at him by someone standing behind the fence.
He told the HET that he saw "some movement in a very dark area of the garden" and that he "would not have expected someone to be standing there on a cold night".
On Tuesday, Soldier D told the inquest that he believed his patrol had ended up outside Mrs Thompson's home by chance.
He said that the search-and-arrest operation was the first one he had been involved in that was located in a then "no-go area".
The former soldier also said it was the only time in his Army career that he had fired live rounds at a person.
He said the patrol retreated from the area after the operation and that he was walking with his back to his patrol members when he saw and heard a flash followed instantly by a bang.
Soldier D said it was a low velocity shot that was aimed at him.
"I believed I was being shot," he said.
'She did not answer'
"I released the safety catch on my weapon, raised it to the firing position and fired two rounds at the source of the flash. When I discharged my weapon I was in the aiming position.
"I observed what I believed to be the silhouette, the head, arms and torso behind the fence.
"I do not know if I hit the target. It disappeared and because there was no more threat there was no reason to fire any more," he added.
Soldier D told the inquest that he was scared at the time of the shooting.
The inquest was also told that Mrs Thompson had been discovered by her husband Patrick, who is now deceased, in the back garden of her home with her face and eyes covered in blood.
In his statement to the original 1972 inquest into his wife's death, Mr Thompson said: "I saw my wife lying there on the ground.
"She was lying on her back with her hands level with her shoulders. There was blood in her eyes and on her face. I spoke to her but she did not answer."
The inquest continues.