Funding boost for stone circles Dark Skies observatory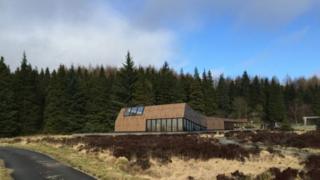 Plans to build Northern Ireland's first dark sky observatory have been given a £500,000 funding boost.
The Davagh Dark Skies project is due to start later in March.
It will see an observatory built at Davagh Forest near Cookstown, County Tyrone.
The Department of Agriculture, Environment and Rural Affairs (DAERA) has announced the project will receive £500,000 from the Rural Tourism Scheme.
When built, the £1m facility will include a visitor centre, virtual reality exhibition and telescope.
The new observatory is being developed by Mid Ulster Council and will be the first dark sky observatory in Northern Ireland.
It will be located close to Beaghmore Stone Circles, at the foot of the Sperrin mountains - one of the few areas in Northern Ireland unaffected by light pollution.
Catherine McCallum, the director of DAERA's rural affairs division, said the funding could encourage rural tourism and especially foreign visitors.
"By investing in tourism projects in rural areas the department believes linkages to other attractions... can be developed which should help to encourage further visitors to these rural areas which in turn has the potential to generate significant additional economic and tourism benefits for each area," she said.
Chair of Mid Ulster council Kim Ashton said the project, which includes glamping and leisure facilities, will offer an unrivalled visitor experience.
"Visitors will not only look up and be mesmerised by the clear views of star constellations, in exactly the same way as our ancestors living in those hills did, but also look around them at a rich landscape of substantial archaeological and cultural significance and a history which spans not just centuries, but millennia," she said.