Roma Downey fuel poverty scheme paused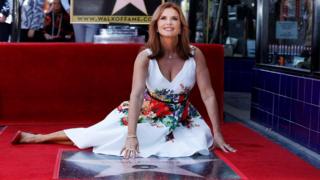 An anti fuel poverty scheme funded by Hollywood actress Roma Downey has been put on hold because of concerns over false claims.
The Warm Hearth, Warm Heart fund was set up to help cover the costs of fuel for people in Londonderry.
It was administered by Fr Paddy O'Kane, a long-time friend of the Derry-born actress.
Fr O'Kane said the scheme had been paused because "a small minority" of claimants were not genuine.
He told the BBC's Mark Patterson show that more than £10,000 of oil was ordered in the scheme's first few days.
"But I was aware that some people were taking advantage of the scheme, which saddened me," he said.
"I was depending on people's honesty, totally on their honesty.
"The vast majority of the people who were looking for help were genuine, but a small minority of people were taking advantage of it."
Fr O'Kane, from Holy Family Church in Ballymagroarty, said he was "extremely grateful" to the local businesses and individuals who supported the scheme.
He said it was hoped the scheme would be relaunched.
Ms Downey is best known for her starring role in the US television series Touched by an Angel.