Arlene Arkinson's sister loses compensation bid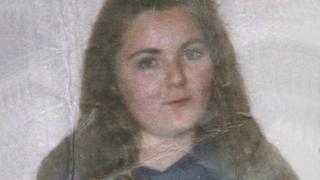 A sister of murdered schoolgirl Arlene Arkinson has lost a compensation bid over how she was treated by police who investigated Arlene's disappearance.
The 15-year-old, from Castlederg, County Tyrone, went missing in 1994.
Her older sister, Kathleen Arkinson, claimed her detention in 1996 by Royal Ulster Constabulary (RUC) officers working on the case was illegal.
Her then partner, Stephen Walsh, has also lost his compensation claim for unlawful detention.
'Search justified'
Mr Walsh further lost a compensation bid over his arrest on suspicion of murdering Arlene.
The Castlederg teenager was last seen getting into a car with convicted child killer, Robert Howard, after she left a disco in County Donegal.
Howard was acquitted of her murder and died in prison in 2016, but he remains the main suspect in the unsolved case.
At Londonderry County Court on Friday, Ms Arkinson and Mr Walsh were each awarded £1,500 in compensation for damage caused to their home in Castlederg during a three-day search by the RUC in April 1996.
However, the judge said the police search operation at the plaintiffs' home was justified.
She said it was based on RUC information, from a reliable source, which stated that Arlene Arkinson died after either falling or being pushed downstairs during an argument which began when her sister Kathleen found the teenager in bed with Mr Walsh.
The judge said a warrant to search the house after that information had been received was properly sought by and granted to RUC detectives.
The judge ruled police were justified in conducting the search operation and in questioning Mr Walsh about the murder of Arlene.
The remains of the teenager have never been found but she was last seen in the company of Irishman Robert Howard, who had a criminal record dating back 40 years.
He was eventually put on trial for her murder but was acquitted in 2005 by a jury who were unaware of his previous conviction for murdering 14-year-old Hannah Williams in England.
Howard remains the prime suspect in the Police Service of Northern Ireland's investigation in Arlene's disappearance.