Kenny Shiels critical of council over Brandywell training delay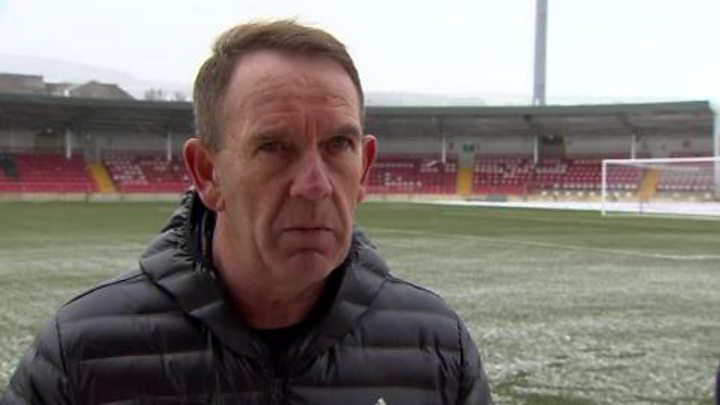 Derry City manager Kenny Shiels has criticised Derry City and Strabane District Council for preventing players from training on the new pitch at Brandywell Stadium.
The new synthetic playing surface at the stadium is the centrepiece of a multi-million pound upgrade.
The stadium is owned by the council.
The council said that training "will be accommodated as soon as the weather permits".
However, the Derry manager said he cannot understand why players have not been allowed to use the pitch and that weather was not a determining factor.
He said the council contacted the club on Thursday to inform them training could not go ahead because there was snow on the pitch.
"Then I come here and there is no snow on the pitch and they won't let me on it. There is nothing wrong with the pitch; this is nothing to do with the weather."
He added: "We are professional people who are being made to look like amateurs because people are not even answering the phone."
He said three sessions had been scheduled at Brandywell this week and each time players were turned away.
Mr Shiels said the club's last 12 training sessions have all had to be rearranged.
"It is very embarrassing to be turned away again in front of my players and made to look like an amateur. I am very angry.
"I don't know why they are doing this to us."
On Wednesday, the Football Association of Ireland (FAI) postponed all games scheduled for this weekend due to the weather.
Derry City's home game against Dundalk was to be the first game played at the redeveloped ground.
Mr Shiels said he did not believe the game would have gone ahead even in better weather conditions and that the FAI's decision had "saved a lot of people from embarrassment".
"This game was never going ahead. You need to have 30 hours on the pitch to get it into condition, it needs bedded in."
A council spokesperson said the stadium and pitch were ready to host the game on Friday and the decision to postpone was made by the FAI.
The spokesperson added that training on the pitch "will be accommodated as soon as the weather permits and that its staff will continue to work closely with Derry City FC."