Judge calls for longer domestic violence jail terms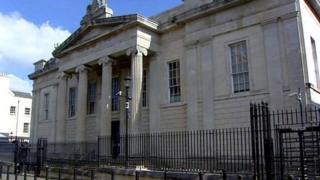 A district judge in Londonderry has called for longer jail terms for domestic violence cases.
Barney McElholm said any change to the current sentencing provision was being prevented by Northern Ireland's political stalemate.
Judge McElholm said the maximum jail term he could impose for domestic violence assaults was six months.
He said the prison sentence for cases of criminal damage was four times that amount.
Judge McElholm made the comments during the sentencing of Michael McIntyre, 45, who pleaded guilty to assaulting his ex-girlfriend and another woman in January 2017.
McIntyre, of Maureen Avenue in Derry, also pleaded guilty to causing criminal damage to a table by punching it with his fists.
He was given an 8 month jail sentence for punching the table and was jailed for 5 months for assaulting the women.
Judge McElholm told Londonderry Magistrates Court that the maximum sentence he could impose for the domestic violence assaults was only six months, whereas the maximum sentence for causing criminal damage was two years.
He said: "We have long passed the point where there needs to be separate domestic violence legislation with enhanced penalties in Northern Ireland of up to twelve months for violent domestic assaults on women and children."
He said the current maximum domestic violence sentence of six months is not a deterrent.
Judge McElholm said matters like this could be addressed if Northern Ireland had a functioning executive.