Hymn writer portrait to go on display for first time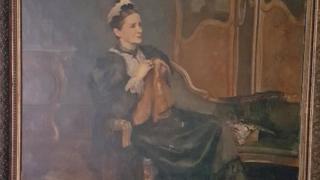 A portrait of one of the Victorian era's most famous hymn writers is to go on public display for the first time.
The painting of Cecil Frances Alexander is one of three portraits that will be displayed at Londonderry's Saint Columb's Cathedral following restoration work.
Mrs Alexander wrote a number of the world's most noted hymns, including All Things Bright and Beautiful.
The restoration work is being funded by a Heritage Lottery Fund grant.
The £6,300 grant will also see portraits of her husband Archbishop William Alexander and Bishop William Higgin restored to their former glory.
When completed, the restored portraits will go on display in the the Londonderry cathedral's Chapter House - the first time the Alexander's portraits will be displayed publicly.
The Dean of Derry, the Very Reverend Raymond Stewart said the paintings will form the centrepiece of an exhibition marking the lives of the Alexanders at St Columb's.
"It is very appropriate that the restoration is being carried out this year as it is the bi-centenary of Mrs Alexander's birth," he added.
Mrs Alexander was a prolific writer of more than 400 poems, and several of them have become hymns which are famous across the world, including "There is a Green Hill Far Away" and "Once in Royal David's City".
Her husband, William Alexander, was the Bishop of Derry and Raphoe and later became the Archbishop of Armagh.
He was also the last Church of Ireland bishop to take up a seat in the House of Lords.
Mrs Alexander died in 1895 and is buried in Derry's City Cemetery. A stained glass window in her memory was installed in St Columb's in 1913.