Donegal's lucky lotto shop closes doors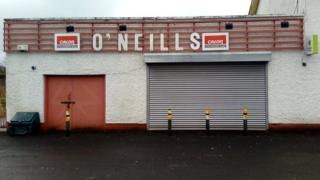 The second luckiest lottery shop in Ireland has sold its final ticket.
O'Neill's shop in Bridgend - a County Donegal village that lies just a few hundred yards from Northern Ireland - ceased trading on Saturday.
Since the Irish lottery launched in 1988, the on-the-border shop has sold 12 jackpot-winning tickets.
Only Dublin's General Post Office has sold more jackpot-winning lottery tickets.
Londonderry man Jim Hume won €1.2m (£1m) with a ticket bought in O'Neill's in 2005.
"My late wife and myself were taking the grandkids to Buncrana and on the way back I said we'll do the lotto in O'Neills," he said.
"My wife said doing the lotto there might change my luck.
"To hear it is closing is very sad news."
Over the years, almost €5m has been scooped won at O'Neills.
In one year alone - 1992 - the shop sold three jackpot-winning tickets.
O'Neills was opened by Bertie O'Neill in 1953 and has been family run in the six decades since.
Customers were notified at the weekend the shop was to cease trading.
Donegal County Councillor John Ryan said the shop had become synonymous with Bridgend.
He wished the owners, Pearse and Siobhan O'Neill, "well in their retirement".