James McDonagh: Man is jailed for one-punch death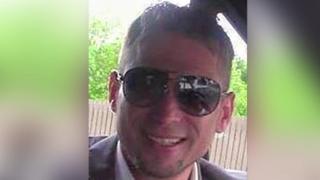 A man has been jailed for one year for the manslaughter of a member of the travelling community in a single punch attack.
James McDonagh, 28, from Castledawson, died from head injuries sustained outside the Elk Bar, Toomebridge, in January 2016.
Finbar McCoy Jr, 26, from Tamlaghduff Road, Bellaghy, pleaded guilty last month.
Half of his sentence will be spent on licence.
The victim's mother had previously asked the judge not to send McCoy Jr to jail, but at Londonderry Crown Court sitting in Belfast on Friday, Mr McDonagh's wife and other family members reacted angrily to the sentence.
Members of the PSNI's tactical support group had to usher the relatives from the court as Mrs Justice Keegan delivered her sentencing.
In a statement released by the PSNI, Mr McDonagh's widow Christina said his death had had "a huge impact on all our lives".
"As a member of the travelling community you only marry the once so I will be now a widow for the rest of my life," she said.
Mr McDonagh's mother, Roseanne, said it was "very hard to put into words our loss regarding Jim and my grief for him".
"I feel sorry for Finbar's mother and father, it's an awful thing to see your child go to jail," she added.
Mr McDonagh's sister Mary said she was "heartbroken" and would never get over her brother's death.
"Time doesn't make it get easier to deal with," she said.
'Gravity of the offence'
The judge said on Friday that she acknowledged there were "sufficient exceptional circumstances in the case'' which made it fall outside the normal sentencing guidelines.
She added that she had been urged by McCoy Jr's defence lawyer to suspend any prison sentence.
However, Mrs Justice Keegan said that an immediate custodial sentence was "required to reflect the gravity of the offence" and in her view the circumstances did "not warrant a departure from that principle".
"There also remains the need for a deterrence in all these cases to ensure that this type of offence does not occur again," she added.
A post-mortem examination revealed that Mr McDonagh died from bleeding and swelling of the brain after a punch caused him to fall backwards.
He hit his head off the pavement, fracturing his skull.
Mr McDonagh later died from brain injuries.
McCoy Jr had always admitted throwing the punch that floored Mr McDonagh, but had maintained he was innocent of causing unlawful death.
Last month, he changed his plea a day after he was due to have gone on trial for a second time.